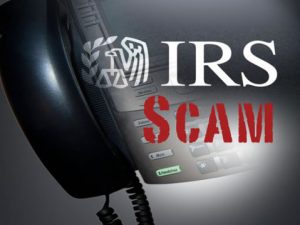 On Monday, April 30, 2018, the Nolan County Sheriff's Office received a call, from a county resident, concerned that they may have been the victim of an identity theft scam.  The caller reported that they received a call, from a man named "David," who claimed to work for the IRS however, they can use any name.  He called from a phone number which showed on the victim's caller ID to be from New York State. The Nolan County resident was told by "David" that they owed many years of back taxes; they don't owe years of back taxes. However, under threat of immediate arrest, they provided "David" with a copy of their driver license and their social security card. They did not, thankfully, send "David" any money, or bank account information.
We want to remind everyone that no official law enforcement agency is EVER going to call you and request personal information over the phone, nor are they going to request that you email any personal information, either.  If anyone calls you and claims that you owe back taxes, have outstanding parking or speeding tickets, or have warrants for your arrest, HANG UP IMMEDIATELY! Then, contact your local law enforcement agency and report the phone call.
These people want your personal information, so they can use it to obtain credit, in your name, for their use. Sometimes, they even want you to send money. These scammers are usually located in a foreign country and call with "spoofed" telephone numbers; sometimes these numbers are even "from your town."  And normally, the email address they want you to send the information to is not an official government email address, but from a Google or Yahoo email address.
Call us anytime if you have questions!
Your Nolan County Sheriff's Office